Why does it have to be hard to share good food with family and friends?
Angie's Place Catering is Great food made easy. We are dedicated to serving you and catering to your specific needs. Your desires set the tone for an event, gathering, or a simple meal. Elegance is definitely within your budget. Angie's Place is where warmth, food, and love meet!

Find out more today, so we can help you start planning your event.
---
---
Yes, it's in your budget...
Welcome to a place where warmth, food and love meet.
We provide solutions so you can relax and enjoy life.
Catered Events
If you are looking for a lunch delivery for a meeting or you need a dinner buffet for a graduation party or full-serve formal catering for a wedding, we have an option for you!
Food To Go
You are busy. Let us help. We have a variety of options that allow you to save time and money. Yet enjoy deliscious, fresh food. We can provide health "to Go" options.
Heat'n Serve Meals
We offer individually packaged meals that serve 1-4 people. Most meals can go from refrigerator to oven or microwave.
Catering


Relax and Enjoy your event!
You want to have a great event. Food preparation can be a taxing, time-consuming effort, and people who plan events seldom have time to spare. Party cleanup can take a toll on anyone. It can be exhausting to throw any kind of party. Call us first. We are professionals who create significant events all the time. You don't want to be rushing around, thinking about details, working hard, and not get time to really appreciate your gathering. Let us do the heavy lifting so you can really enjoy your event. We will work with you to understand the tone, theme, and tastes that you desire. Imagine relaxing, celebrating, socializing, and eating great food with your guests. Angie's Catering service can make it possible to have a great event and enjoy it too.
Angie's Place To Go


Every one has time for a great meal.
Your life is busy. We get a limited amount of time together. Why spend your precious time planning, cooking, and preparing food. This is what we do. We make "Meals-To-Go" so you can save time and money. Enjoy tasty, healthy, well balanced home-cooked meals. We take care of the prep. Get food fast without settling for Fast Food. We provide meals that are ready to eat. Our chef-designed recipes include balanced meals, quick one-pan dinners, and top-rated customer favorites. Simplify your life. Heat, relax and enjoy a beautifully prepared feast. Give us your email and find out about Angie's ready-to-serve Meals-To-Go!

Heat'n Serve Meals


Let us serve you so you can serve them.
Similar to our Meals-To-Go but prepared in a way that you can refrigerate, freeze, heat, then serve fresh. It's dinner-time, and you are wondering what to do. Do you need to shop? Do you have the seasonings required? What you really want is a great meal right now. Following our step-by-step instructions, you'll experience the benefits of enjoying recipes that we create with your family's health and tastes in mind. Save time and money and still have a fresh "home-cooked" meal. Let Angie's Heat'n Serve Meals give your family, office, or yourself a great meal on-demand. We provide well-balanced, delicious, healthy meals that you can Heat'n Serve, so they are ready when you are.
About Angie
Angie began learning to cook at age 8. She was given the freedom to experiment in her mother's kitchen as she got older. She questioned her mother, grandmothers, and aunts who were amazing cooks.

Her parents encouraged her to ask questions and do her own research when answers weren't readily available. So, as a child, restaurant owners, managers, and chefs would humor her when she wanted to try or understand cuisine outside her experience. Even when vacationing she will purposely gourmet and neighborhood establishments to continue learning "great food!"
More Information
Learn more about our offerings and services
---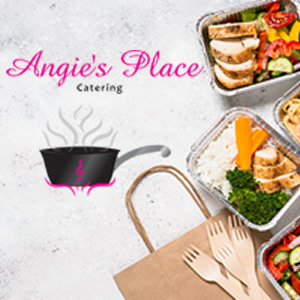 Your party is delivered to you ready to set up and serve.
Disposable items that include pans, chafers with a heat source are provided unless you've requested otherwise.

Angie's Place offers delicious, nutritious, convenient, fully prepared meals, delivered right to your door. We focus on fresh, local, high-quality ingredients. Our convenient meals are scalable for either an intimate setting or a large gathering. We can provide everything for you. You just relax and enjoy good food with your guests.
---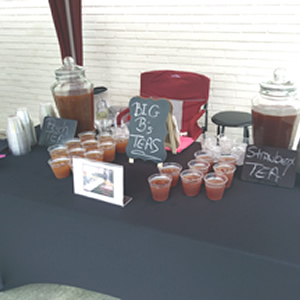 Angie's Place Catering has enjoyed providing food items from beverages to fried fish to gumbo in many vending scenarios. We can provide snacks, drinks, fresh food and healthy vending, utilizing innovative solutions. We can satisfy your audience by providing options to traditional vending that surpass all client expectations. Our refreshment services portfolio offers office, home, tailgate, and event vending. We feature fresh food and our own Big B's Teas with many delicious exotic and interesting flavors. We can customize a program to meet your exact needs.
---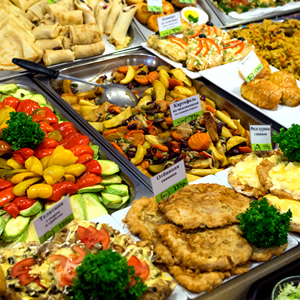 Our personalized service goes beyond giving you the experience that you imagined to giving you one that you didn't even know was possible. Enjoy the striking presentation. Be drawn in, to the colorful and aromatic table. Food that is fresh, modern and delicious will keep you there. Our friendly, attentive staff will know how to make even the finest occasion somehow feel as comfortable as dinner at home.

We offer a wide variety of services to fit everyone's catering needs, we have an option for you!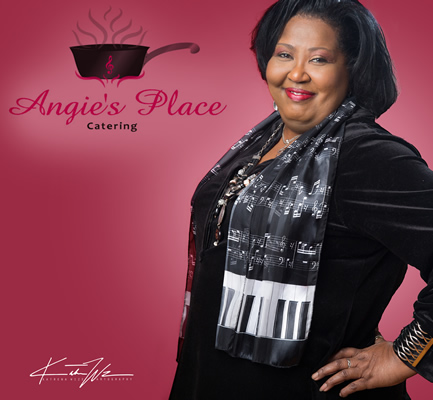 Angies New Online Services
Angie's Place Catering is now more accessible and easy to use Online. Get in touch, Request Services, and Get the Latest Updates. Great food made easy. We are dedicated to serving you and catering to your specific needs. Your desires set the tone for an event, gathering, or a simple meal. Elegance is definitely within your budget. Angie's Place is where warmth, food, and love meet!
Our professional and qualified staff help ensure your relaxation at your event. Our food is prepared with knowledge, dedication, and focus on details. Our experience allows us to anticipate your needs and assure excellent results.
We are educated on allergy and health concerns. And we are amply insured to provide an extra measure of comfort when considering our services.
Sign up and start making your life easier!
One meal, a family gathering or a catered event, let's stay in touch. Click below to get reminders about specials we are running or public events that you should be invited to. Join us for Great Food made easy.
Please Tell Your Friends and Colleagues About Us!
Copyright Angie's Place - Powered by
BizNetz, Inc - bizDigital
2020 - All Rights Reserved.
Privacy policy